Experience the savory delights of charcuterie in a single cup. This scaled-down charcutier board features an assortment of bite-sized cured meats, cheeses, fruits, and nuts, perfect for savoring the flavors of a traditional charcuterie spread in a compact and delightful presentation.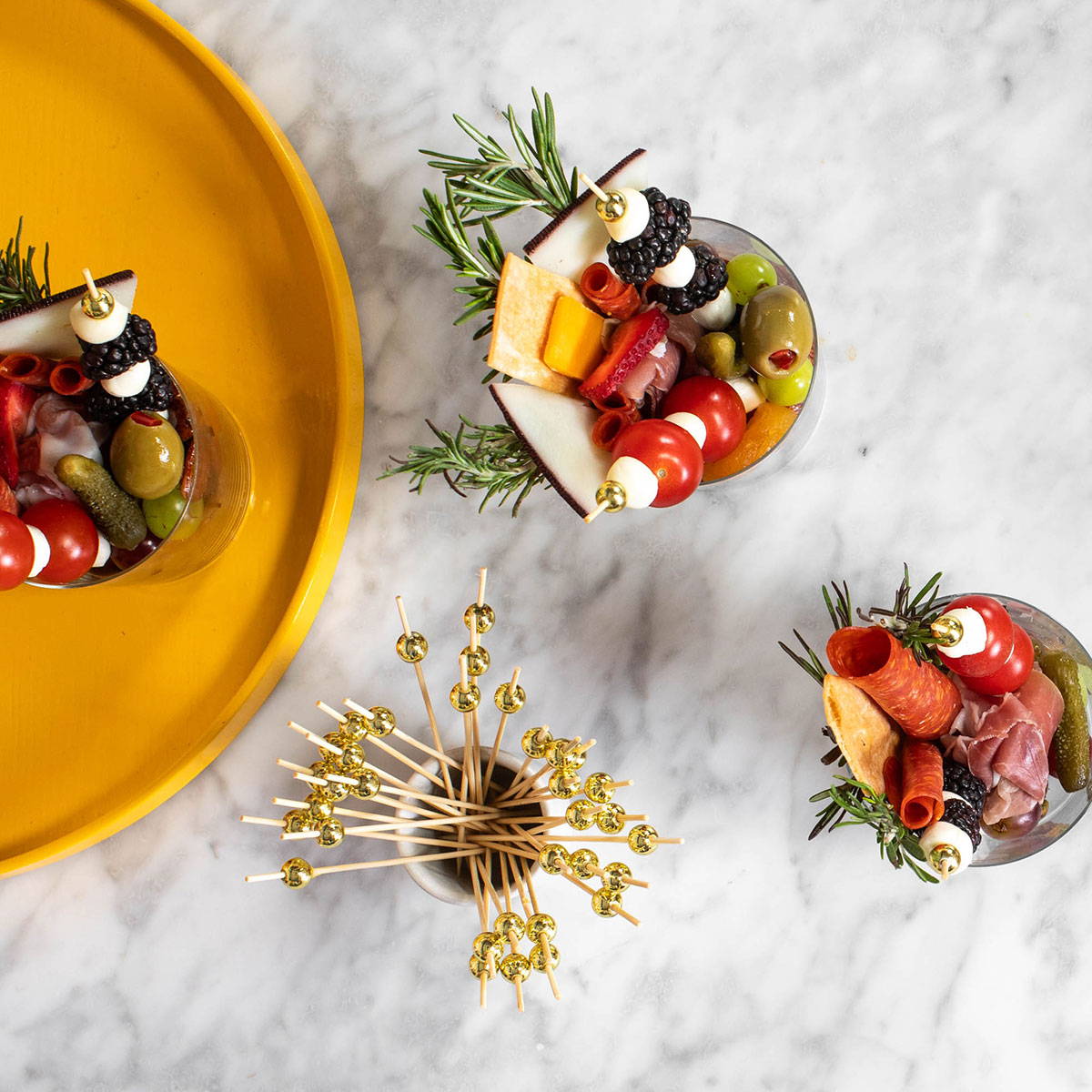 Cook Time 20 min | 6 Servings
Ingredients
12 long crackers or breadsticks
½ cup candied pecans
½ cup shelled pistachios
½ cup whole roasted almonds
4 ounces salami or peperoni
4 ounces bocconcini
20 cherry tomatoes
18 blackberries
8 ounces sharp cheddar
8 ounces drunken goat cheese
25 seedless grapes green or purple
12 cornichons
12 olives
fresh herbs for garnish
Equipment
6 clear glass cups 4 to 6 ounces each
12 cocktail picks 4 to 6 inches each
How to Make It
Place 2 long crackers or breadsticks in each glass. Add a combination of pecans, pistachios and almonds to fill the bottom of the cup and hold the crackers in place.
Thread the cherry tomatoes and bocconcini on to the cocktail sticks in an alternation patter. Repeat with the blackberries and bocconcini. Add one of each skewer to the cups, nestling them into the nuts.
Cut the hard cheeses into slices, triangles, or cubes varying the shapes for visual interest.
Add the hard cheeses to the cups. Roll the peperoni and salami into small cigar shapes and place into the cups.
Tuck herbs into the glasses for garnish.
Chef Notes
You can mix and match different types of meats and cheeses to your liking.
Dried fruits or a square of dark chocolate looks great and adds sweetness.
Make sure to use pitted olives and seedless grapes for easy eating.
---
EXPLORE MORE ON THESE TOPICS