Red & Blue Berry Tart with Almond Crust
Make your own gorgeous tart that looks like it belongs in a bakery window! The natural, beautiful berry colors make it perfect for any summer gathering. The simple almond crust is easy to make and gluten free.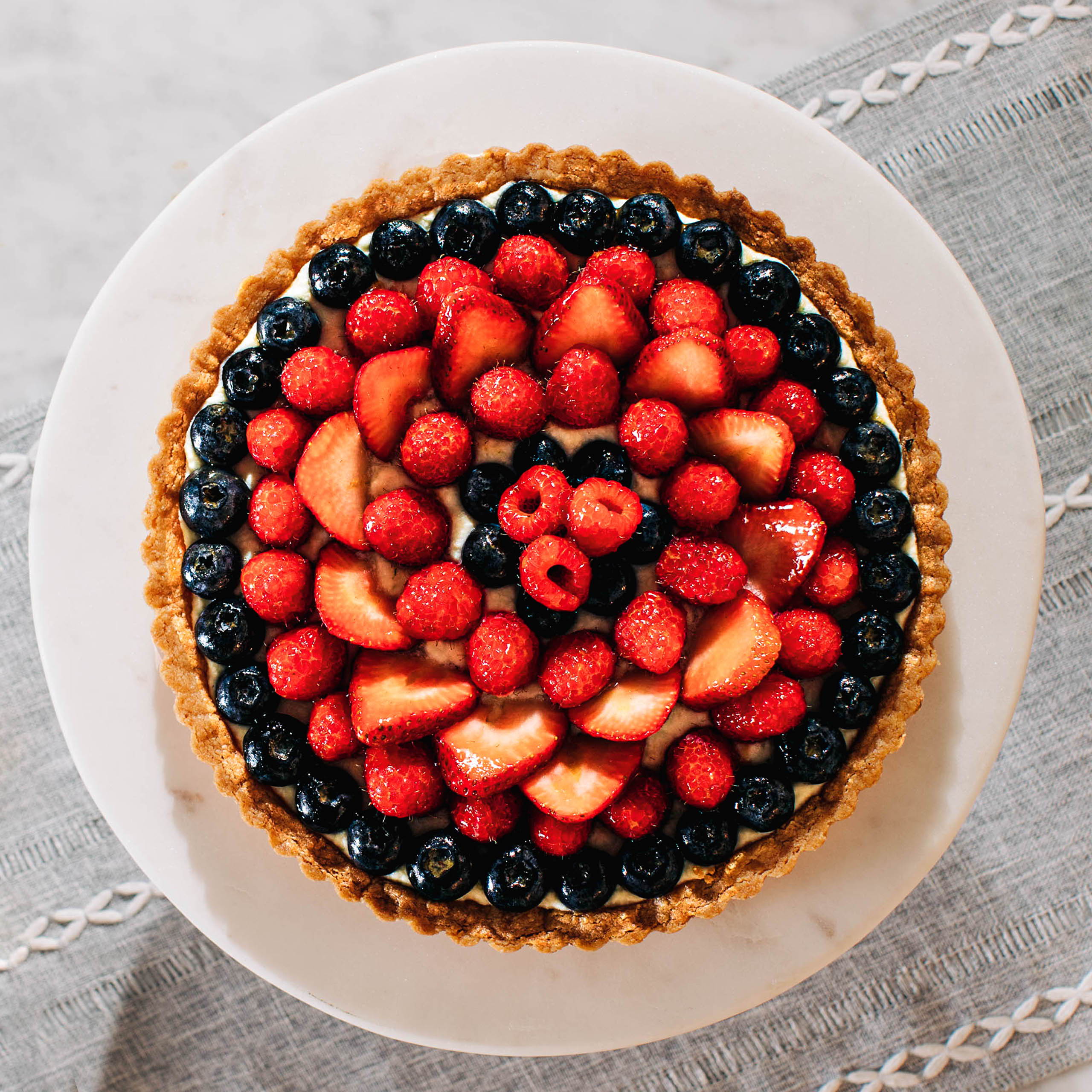 Red & Blue Berry Tart with Almond Crust
Cook Time 1 hr 30 min | 6-8 Servings
Crust Ingredients
1 cup almond flour
½ cup cornstarch
⅓ cup sugar
½ teaspoon table salt
6 tablespoons unsalted butter, melted and cooled
¾ teaspoon almond extract
Tart Ingredients
⅓ cup (2 ounces) white baking chips
¼ cup heavy cream
1 teaspoon grated lime zest plus 7 teaspoons juice (2 limes)
Pinch salt
6 ounces (3/4 cup) mascarpone cheese, room temperature
4-6 large strawberries
20 ounces (4 cups) raspberries and blueberries
⅓ cup apricot preserves
How to Make It
Adjust oven rack to middle position and heat oven to 350 degrees. Combine almond flour, cornstarch, sugar, and salt in bowl with a whisk. Add melted butter and almond extract and stir with wooden spoon until uniform dough forms. Crumble two-thirds of mixture over bottom of 9-inch tart pan with removable bottom. Press dough to even thickness in bottom of pan. Crumble the rest of the dough and scatter evenly around edge of pan. Press crumbled dough into sides of pan. Press to even thickness. Place pan on rimmed baking sheet and bake until crust is golden brown, about 20 minutes, rotating pan halfway through baking.
Combine the baking chips, cream, lime zest, and salt in medium bowl. Carefully melt in the microwave, stirring every 15 seconds, until everything is melted, about 30 to 60 seconds. Whisk in one-third of mascarpone, then whisk in 6 teaspoons lime juice and remaining mascarpone until smooth. Transfer filling to tart shell and spread into even layer.
Evenly space a ring of blueberries around the outer edge of tart. Place a second ring of raspberries inside the tart. Fan a ring of sliced strawberries around the tart as the 3rd ring. Continue with a ring of raspberries then fill center of tart with remaining blueberries and a few raspberries as final garnish. The end result will be alternating red and blue berries in attractive pattern.
Microwave the apricot preserves and remaining 1 teaspoon lime juice in small bowl for 20 to 30 seconds. Strain mixture through fine-mesh strainer. Using pastry brush, gently brush the mixture over fruit, avoiding crust. Refrigerate tart for at least 30 minutes before serving.
Remove outer metal ring of tart pan. Slide thin metal spatula between tart and pan bottom to loosen tart, then carefully slide tart onto serving platter. Let tart sit at room temperature for 15 minutes. Using peaches as guide, cut tart into wedges and serve. (Tart can be refrigerated for up to 24 hours. If refrigerated for more than 1 hour, let tart sit at room temperature for 1 hour before serving.)
---
EXPLORE MORE ON THESE TOPICS