Social Studies - Exquisite Rentable Tablescapes
Set the Table, Set the Mood
Event company Social Studies makes it easy to create the ideal ambience at any affair.
Whether you're hosting an intimate multi-course dinner party, a whimsical garden picnic, or a swanky soiree, setting the right mood starts with décor. If that feels daunting – (really, who has multiple genres of dishes and decorations stored away?) – don't be deterred. The event experts at Social Studies have you covered with tone-setting style tips and shortcuts to make it all come together with ease.
First and foremost, says CEO Jessica Latham, make it fun. After all, a gathering is about connecting with people.
"The right décor creates an ambiance that fosters connection," says Jessica, co-founder of the popular startup that has become a go-to resource for all things entertaining, including a must-read blog, "The Social", that offers party tips, tricks and trends.
Set the Scene: DIY, or Call in the Experts
Creating that ambiance can mean curating items from your own stash or popping into the store for a few essentials, like candles. Jessica suggests placing games or intriguing pieces, like antiques, around the table to get guests talking. Subtle lighting encourages guests to relax and open up to each other, she says, and candles make for an instant mood. Greenery and flowers – from the store or your own yard – will give a fresh feel to the room. Just make sure the arrangements aren't so tall they hinder interaction.
Or, there's an easier way to nail décor: Social Studies' rentable kits that include everything needed to set an Instagram-worthy table. (Think Rent the Runway, but for your table.) Garnering a cult following the company offers an array of packages with a variety of themes — from dark and romantic, to bright and airy, to eclectic and bold.
There's The Doppio, a colorful Art Deco collection inspired by the restaurant on the Italian island of Capri where Jessica was married; Dark Nordic, which exudes a cozy, modern, moody vibe; and Secret Garden, a lush, romantic set featuring floral china and vintage flatware.
The Social Studies team frequently updates its offerings with an eye toward emerging trends, partnering with renowned fashion icons Tory Burch and La DoubleJ, as well as high-end brands like Café Appliances. Their work with Café will be on display in February at KBIS, one of the largest industry kitchen and bath shows, where the team created tablescapes, signature cocktails and even Spotify playlists to show how kitchens can showcase a unique style and personality.
"We are natural partners because we are both brands at the forefront of at-home entertaining in an elevated way," says Jessica. "Social Studies shares the same philosophy as Café: We both give design-centric customers a range of affordable options to match their unique style without compromising on quality."
Ready, Set...Party
For 2022, Jessica predicts those design-minded folks will be ready to mingle. "I think we'll see people gravitate towards bold maximalist parties after more than a year of being cooped up," she says.
Using a rental service like Social Studies allows entertainers to experiment with different styles, as well as being cost-effective and space-saving. And now that many items from their lines are available for purchase, you can try first, then buy later if you're so inclined. But most importantly, the service enables hosts to connect with guests instead of stressing about decorative details.
Tablescapes – rented or your own – aren't just for formal functions. "You don't need a massive budget to plan a memorable event," Jessica says. "We encourage customers to mix low-end and high-end – for example, pair one of our kits with takeout from your favorite restaurant."
Final Thoughts: It's About Having Fun
When it comes to throwing the perfect party, Jessica reiterates that it's about being with people. Be sure to have plenty of food and drink. Don't try out a new recipe or wear an uncomfortable outfit. And stay relaxed ("Guests pick up on your energy," Jessica says.)
Whether you set the table with goodies from your own home or rent them from Social Studies, remember that the vibe starts with you. So don't stress, have fun with the people you love, and party on!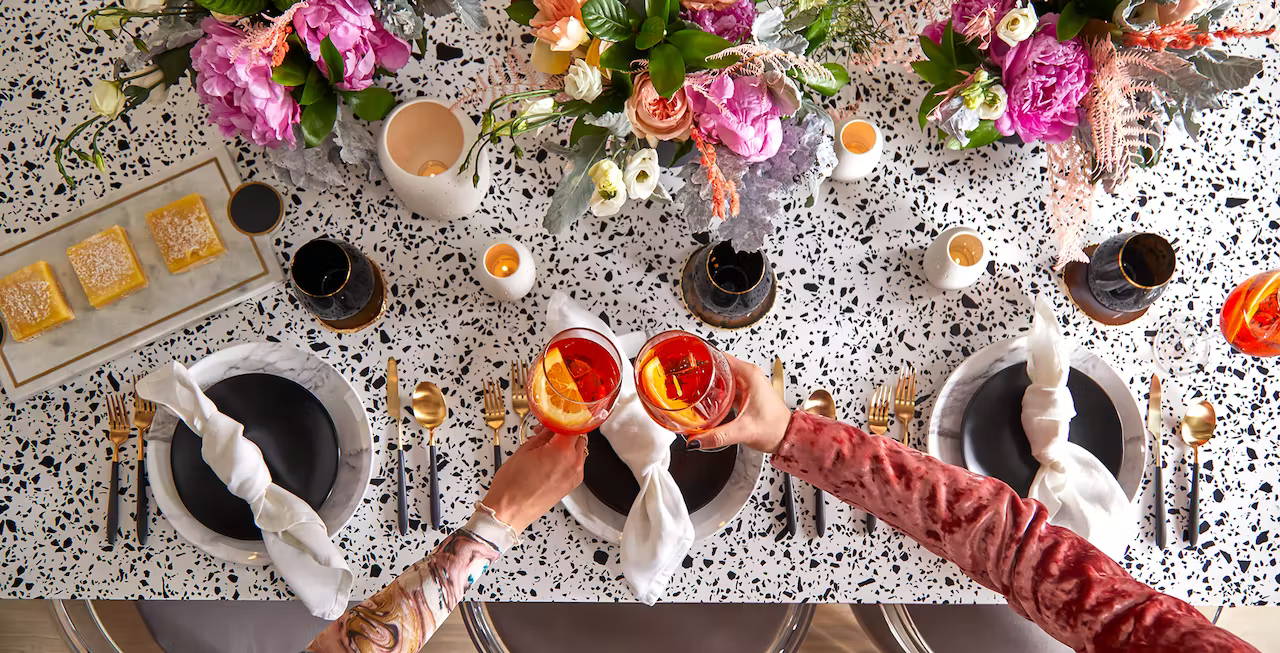 How does it work? Simple.
Browse the online selection of curated party kits, which include with plates, flatware, linens and candles, and add-ons such as floral arrangements, custom menus and name cards.
Select the style that suits your party needs, choose your number of attendees (in increments of four), and Social Studies will ship your kit right to your door.
When the party is over, just place the plates and flatware back in the box (no need to wash!) and Social Studies will pick it up.

Espresso Martini
Cook Time 2 hours | 4 Servings
A fresh shot of espresso combined with coffee liqueur and vodka makes for the perfect pick-me-up.
Ingredients
¼ ounce simple syrup
½ ounce coffee liquor
2 ounces vodka
1 ounce fresh espressos
How to make it
Add simple syrup, coffee liqueur, vodka and espresso to a cocktail shaker filled with ice. Shake until well-chilled. Pour into martini glass, float 3 coffee beans on top as garnish.
Chef's Notes
Make sure your shot of espresso is fresh, but slightly cooled. This will ensure a foamy top for your cocktail.

Venetian Spritz
Time 5 minutes | Makes 1 cocktail
This refreshing, not-too-sweet, bubbly cocktail tastes like summertime in Italy and looks like a golden sunset.
Ingredients
1 ¼ ounces Aperol
2 ounces Prosecco
Splash of soda water
Orange twist garnish
How to make it
Add ice to a wine glass until it is nearly full. Pour in the Aperol, Prosecco and top off with a splash of soda water.
Garnish with an an orange twist and serve.

Gold Rush
Time 5 minutes | Makes 1 cocktail
This modern take on a whiskey sour combines bourbon, lemon, and honey for a cocktail that's perfect in any season.
Ingredients
2 ounces bourbon
1 ounce honey syrup
¾ ounce freshly squeezed lemon juice
lemon twist garnish
How to make it
Combine all ingredients in an ice-filled shaker. Shake until well chilled, about 10 seconds. Strain into a chilled rocks glass over one large ice cube.
Garnish with a lemon twist.
Chef's Notes
To make honey syrup, combine equal parts honey and water in a small saucepan and heat over medium heat, stirring constantly, until honey is dissolved. Cool before using. The syrup will keep in a sealed container in the refrigerator for up to 5 days.
---
EXPLORE MORE ON THESE TOPICS