Bring on Summer Style with Fresh Colors and Flavors
Though not the first actual day of summer, most people kick off the summer season Memorial Day weekend. It signals the ending of the school year, warmer temperatures, and celebrations in remembrance of those who've served our country. Along with the traditional red, white, and blue colors, this year consider a slightly different take on summer celebrations. Let's bring on summer style with rich colors and fresh flavors.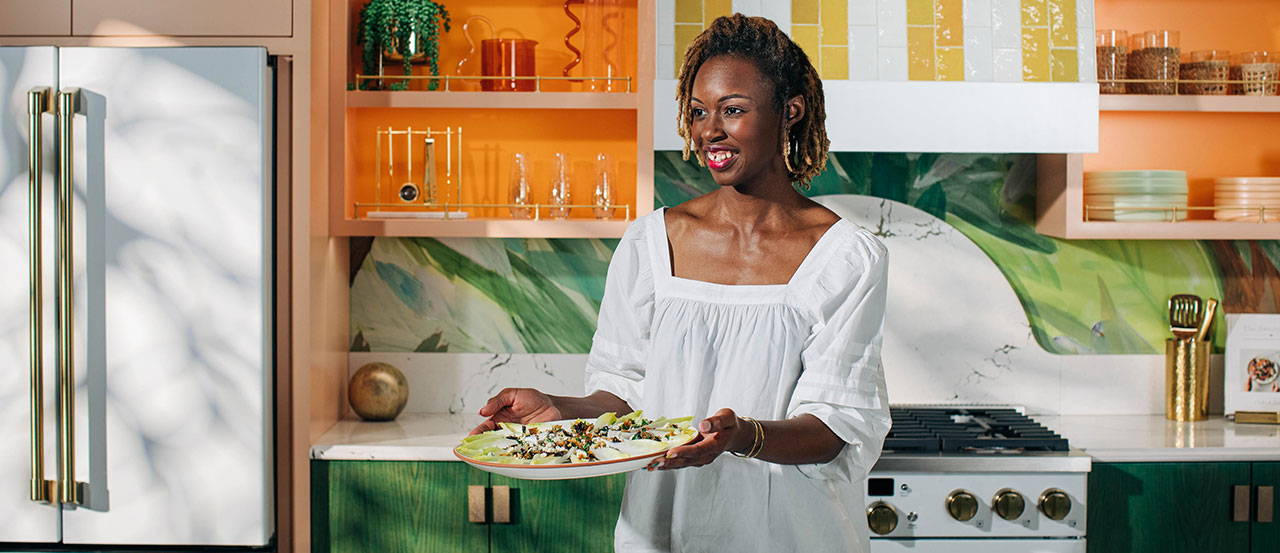 Start with Your Café Kitchen
Seasons change, your passions change—maybe it's time to choose new hardware for your Café Appliances, like our new Brushed Brass or Flat Black handles. Adding the latest hardware finishes to your appliances livens up your space without making a major change. You'll feel inspired to spend time in your kitchen trying unique recipes and creating dishes for those you love.
Speaking of Recipes...
Entertaining is easier when you have a flavorful menu to celebrate the holiday. Instead of (or along with) your typical barbecue fare, try these recipes to switch up your backyard get-together. Bake our Spring Flower Asparagus Tart in your Café oven, keep the Endive Salad Cups chilled in your Café refrigerator, and store your Rosé Berry Sangria at the perfect temperature in your Café Wine & Beverage Center. You'll love having the festive colors on your summer table scape—bright blueberries, luscious strawberries, bright green asparagus, and a mix of vivid colors in the salad cups make a striking holiday offering for your guests.
Summer Colors Abound
You don't have to stick to traditional colors for a Memorial Day gathering. Let the food take care of the red, white, and blue while you don your tables in other lively colors of the season. Summertime hues range from ocean blues to hot tomato reds. Turquoise and coral are also good compliments for a summer soiree; choose a tablecloth with a variety of colors and add colorful glassware and brilliantly colored plates to round out your spread.
Create a sunny outdoor décor with vases of seasonal flowers like peonies, dahlias of all shades, roses, carnations, and freesia. Gather them from your own garden or visit a local flower shop to select your own mix of floral sprigs and blooms. Choose one large colorful vase for a centerpiece and create smaller accents with bud vases or rose bowls. Get creative and use whatever blooms catch your eye. No need to stick to one color—make it a vibrant mix.

Asparagus Flower Tart
Cook Time 1 hour | 8 Servings
Ingredients
1 14-ounce package puff pastry, thawed
¼ cup sour cream
¼ cup heavy cream
5 large eggs
1 teaspoon salt
6 ounces shredded sharp gruyere cheese
2 shallots, thinly sliced
1 tablespoon oil
½ pound asparagus trimmed
10-12 grape or cherry tomatoes in multiple colors, sliced
Fresh thyme leaves for garnish
How to make it
Preheat oven to 400˚F. Line a sheet pan with parchment paper.
Roll puff pastry and trim to a neat rectangle.
Transfer the puff pastry dough to the prepared sheet pan. Lightly score a 1-inch border in all the way around, being careful to not cut all the way through the dough. Dock the inside rectangle with a fork.
Bake for 12-15 minutes until light golden brown. Remove from the oven and push down the center of the tart shell with the back of a spoon.
While pastry shell is cooking make the toppings.
Sauté shallots in 2 teaspoons of oil until golden and caramelized. Remove shallots from pan and add in two more teaspoons of oil. Add the asparagus and cook for 2-4 minutes until asparagus is tender.
Whisk the eggs until well combined. Whisk in the sour cream, cream, salt and pepper until smooth. Add the cheese and stir with a fork to combine.
Scatter shallots on bottom of tart shell. Carefully pour over the egg filling. Using a small spatula to spread filling so it covers the inner surface.
Arrange the asparagus stalks to resemble flower stems and use the tomato slices to make petals. Garnish with thyme and cut asparagus tips. Be creative! Bake for 10-12 minutes until filling is set.
Rosé Berry Sangria
Cook Time 2 hours 30 mins| 5-6 Servings
Ingredients
1 (750-ml) bottles rosé wine
2 ounces elderflower liqueur
2 ounces Simple Syrup
4 ounces pomegranate juice
½ cup sliced strawberries
½ cup blueberries
Garnish
1 lemon sliced
¼ cup fresh thyme
Sparkling water
How to make it
Combine all ingredients in a large pitcher. Cover and refrigerate to allow flavors meld. Chill for at least 2 hours or up to 8 hours.
Stir sangria before serving. Serve in wine glasses half-filled with ice, garnishing individual portions with macerated fruit, lemon slices and fresh thyme. Top with sparkling water.
Chef's Notes
The sangria needs to chill in the refrigerator for at least 2 hours before serving.

Endive Salad Cups with Blue Cheese & Toasted Walnuts & Pancetta
Cook Time 10 mins | 6-8 Servings
Ingredients
2 teaspoon extra virgin olive oil
3 ounces thinly sliced pancetta sliced into strips
½ cup tart dried cherries, chopped
¼ cup fresh parsley chopped
½ teaspoon cracked black pepper
⅓ cup crumbled gorgonzola cheese
¼ cup toasted walnuts, chopped
24 Belgian endive leaves about 2 heads
How to make it
In a large non-stick skillet heat the olive oil over medium, add pancetta to skillet and stir occasionally until crisp, about 8 minutes. While pancetta is cooking, toss the cherries, walnuts and parsley together in a medium sized bowl and season with black pepper.
When the pancetta is ready, pour the contents of the skillet (fat included) over the filling mixture and stir to combine. Then add the gorgonzola and toss to combine.
Place endive leaves on a serving plate or platter. Fill each leaf with the filling. Serve and enjoy.
---
EXPLORE MORE ON THESE TOPICS