Late Summer Conundrum: What Do I Do With All This Produce?
It's a happy problem, but a conundrum nonetheless—you planted a few tomato plants and they really took off. Now your garden and kitchen are overrun with ripe summer fruits and vegetables like zucchini, tomatoes, corn, watermelon, peaches, and blackberries. What do you do when the produce is piling up and the clock is ticking?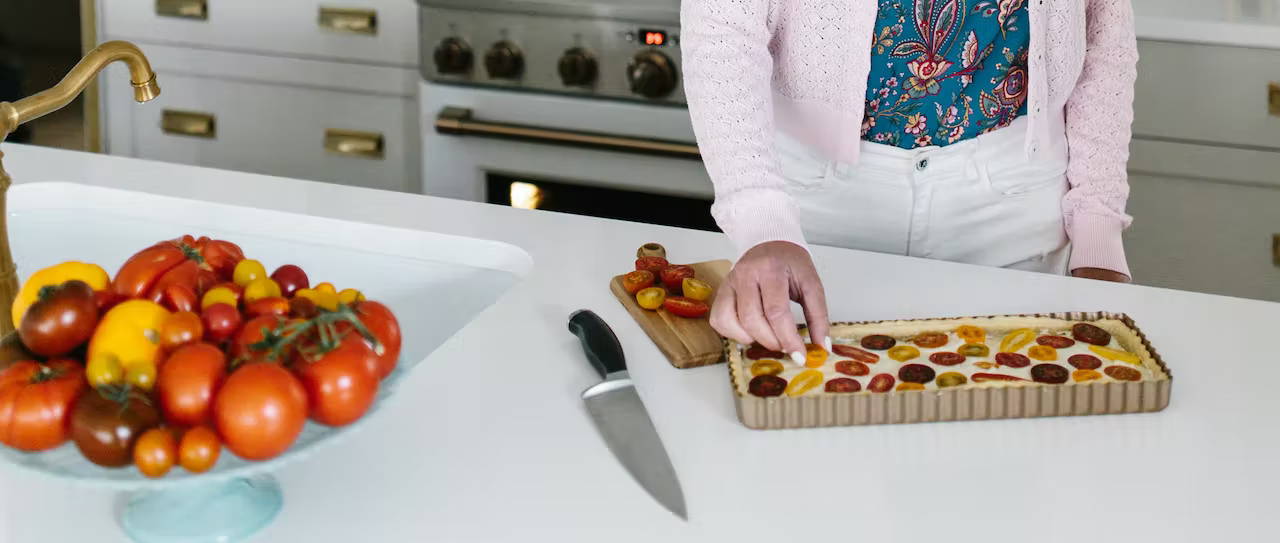 Share the Fruits of Your Labors
There's no better way to share abundance than with friends. And there's no faster way to get your extra produce into their grateful hands (and mouths) than by collecting your extra ripe fruits and vegetables into beautiful baskets and gifting them as late summer presents. Give as a hearty welcome to a new neighbor, or pair with a bottle of wine for a thoughtful dinner gift. Or simmer blackberries, sugar, cinnamon, allspice, cornstarch, and lemon on the Café Convection Range for a quick but elegant blackberry jam as a housewarming gift.
For a gift that travels well, trim fresh rosemary from your garden and make Roasted Rosemary-Scented Nuts (see recipe below). It's simple to make and tastes delicious as a snack or as part of a charcuterie board.

Create Upscale Al Fresco Dinners
Summer is for eating outside, pleasant company, and delicious seasonal food. One of the simplest, and tastiest, ways to use plentiful root vegetables from your garden is by roasting them in the Café Five in One oven. Brussel sprouts, carrots, red potatoes, sweet potatoes, and cauliflower florets make an enticing colorful, warm dish when roasted together. Simply drizzle with virgin olive oil, sprinkle with salt and pepper, and roast for 35 minutes, keeping an eye on the tops browning. Pair with baked salmon fillet or slow-cooked pulled pork and tender greens for a sumptuous dinner that's as easy to prepare for two as it is for twelve.
For dessert, showcase the fruits of your labor with just-picked ripe peaches with ginger-infused honey or blackberries and vanilla bean ice cream. Dinner guests will love gushing over your garden's ripe summer fruit—just remember to have plenty of napkins nearby.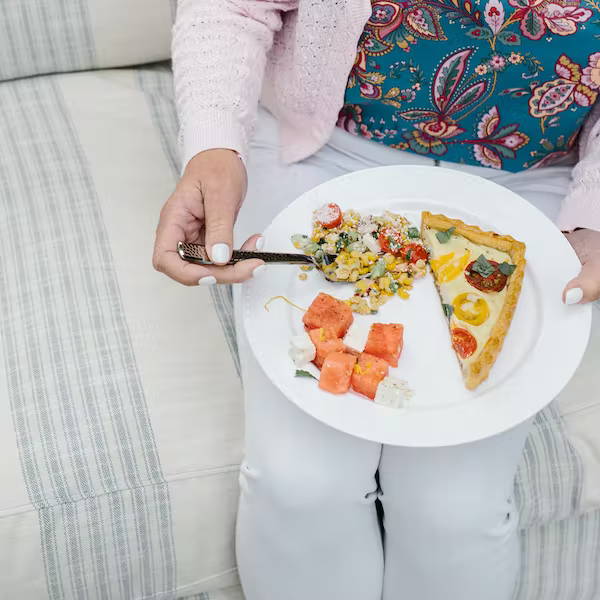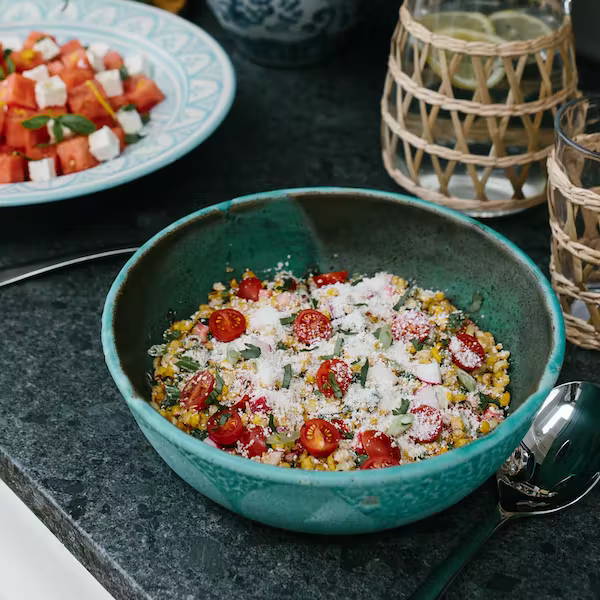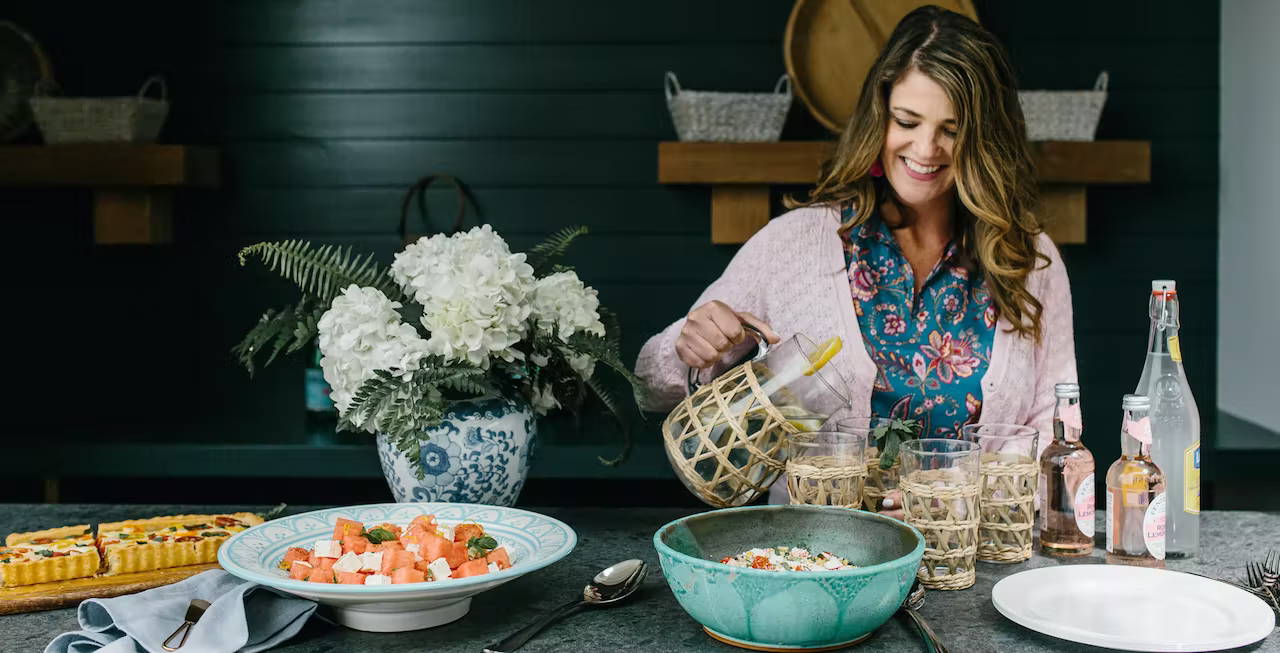 Host a Party
Host family and friends in your home as an excuse to try out those new recipes you've been eyeing. Try a themed dinner party centered around seasonal produce from your garden and all the delicious ways it can be eaten raw, braised, broiled, blanched, sautéed, roasted—all with different results. Play with texture, color, and proportions. Pair citrus with warm full flavors and starchy vegetables with pickled ones. Plate your bounty with an eye for bright colors, interesting garnishes like snappy parsley or fragrant dill, and a bit of whimsy and your guests will have as much fun as you did cooking your garden's produce.
For a late Labor Day al fresco dinner, serve a trio of summery sides that hit every note: a simple but beautiful heirloom cherry tomato tart, a savory charred corn salad with cotija cheese and radishes, and a refreshing watermelon salad with feta and mint.
CONTRIBUTORS | INTERIOR STYLING & PHOTO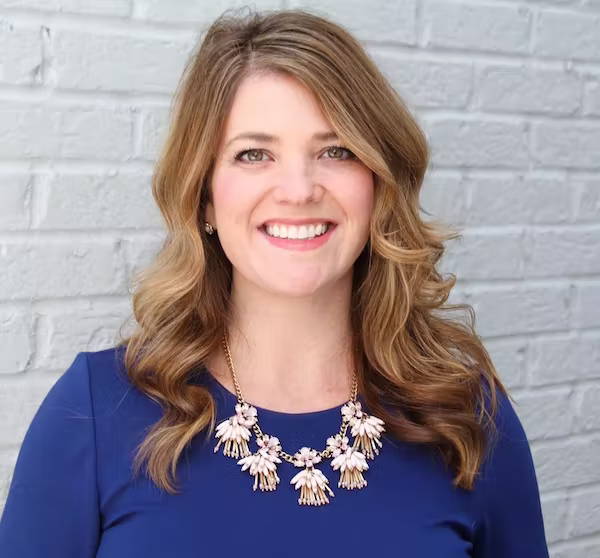 Gretchen is the owner of Greyhouse Design, an interior design firm in Louisville Kentucky. She and her husband Jason Black, builder of Artisan Signature Homes make a dynamic duo creating beautiful custom homes.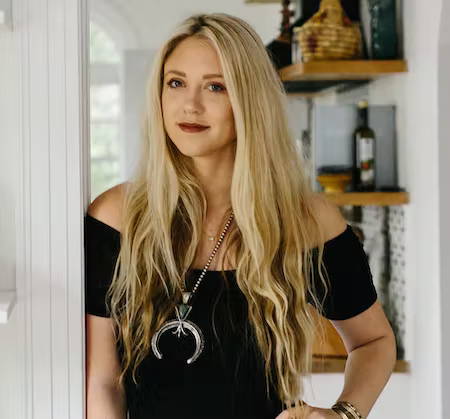 Carley Page Summers is an interior and lifestyle photographer, an interior stylist, and a creative consultant who is based in North Carolina. Carley's work is very much inspired by her world travels.

Heirloom Cherry Tomato Tart

Cook Time 1 hour | Servings 8
Ingredients
Pie dough for crust (store-bought or homemade)
2 tablespoons olive oil
4 large shallots, very thinly sliced
8 ounces goat cheese, room temperature
2 eggs
1 pint heirloom cherry tomatoes, cut in half
Kosher salt
Fresh ground pepper
¼ cup fresh basil leaves, sliced
How to make it
Preheat oven to 375 degrees F.
Roll out dough on a lightly-floured surface into roughly a 16" x 7" rectangle. Carefully place dough in tart pan. Fold over excess dough and press against side of pan to reinforce the sides of the tart. Lightly prick bottom with a fork.
Line pie crust with parchment paper and fill with pie weights or dry beans. Bake in middle of oven until pastry is pale golden around rim, about 20 minutes. Carefully remove weights and parchment. Bake until golden, 5 to 8 minutes more. Cool in pan on a rack.
While tart shell is baking, heat 2 tablespoons oil in a 12-inch heavy skillet over moderate heat. Add the shallots and cook, stirring frequently, until shallots are caramelized and a deep brown color (about 20 to 25 minutes). Remove shallots from pan, season to taste with Kosher salt and allow to cool.
In a medium bowl, combine goat cheese and eggs. Mix until combined. Season with salt and pepper. Spread shallots over bottom of tart shell. Spread goat cheese mixture evenly over the shallots. Arrange tomatoes on top, cut side up, pressing them into the goat cheese filling.
Put tart pan on a baking sheet and bake for 20 minutes. Remove the tart from the oven and allow to cool for 10 minutes, then top with chopped basil. Tart can be served warm or at room temperature.
Chef's Notes
You'll need a 14.5" x 5.5" tart pan with removable bottom for this recipe.

Watermelon Salad with Feta and Mint

Cook Time 5 minutes | Servings 4-6
Ingredients
1 small seedless watermelon, rind removed, cut into 1-inch chunks (about 2 pounds after rind is discarded)
Zest from one lemon
3 tablespoons extra-virgin olive oil, plus more for drizzling
¼ cup roughly chopped fresh mint leaves
Kosher salt and freshly ground black pepper
4 ounces feta cheese, cut into ½ inch cubes
How to make it
Place watermelon chunks in a large bowl. Sprinkle with half of the lemon zest. Add oil and mint, toss until watermelon is evenly dressed. Season lightly to taste with salt and pepper.
Transfer salad to a wide, shallow bowl or a large plate and spread out evenly. Scatter feta over the top. Sprinkle with remaining lemon zest. Drizzle with more olive oil and a few grinds of black pepper. Serve immediately.

Charred Corn and Tomato Salad with Radishes and Cotija

Cook Time 30 minutes | Servings 4-6
Ingredients
2 tablespoons extra virgin olive oil
Kosher salt and freshly ground black pepper
4 cups sweet corn kernels (cut from about 5 full ears)
12 small radishes, diced
1 pint cherry tomatoes, halved
1/2 cup roughly chopped fresh cilantro
1/2 cup thinly sliced green onions (about 4)
1 serrano, minced
1/4 cup Mexican style crema
1/2 cup grated cotija cheese, plus more to garnish
3 tablespoons lime juice (from about 3 limes)
How to make it
Heat oil in a large cast iron skillet over high heat until smoking. Add corn and cook without moving until well charred on first side, about 2 minutes. Scrape up charred corn from bottom of pan with a wooden spatula continue cooking until corn is well charred on multiple surfaces, about 10-15 minutes total. Season to taste with salt and pepper and transfer to a large bowl. Allow to cool slightly, about 10 minutes.
Add radishes, tomatoes, cilantro, scallions, serrano, crema, cotija, and lime juice, and toss to combine. Adjust seasoning to taste with salt and pepper. Serve immediately, sprinkled with extra cotija.
---
EXPLORE MORE ON THESE TOPICS