How to Pick the Perfect Backsplash
A backsplash serves several roles in a kitchen. On a practical level, a backsplash helps protect the wall behind the range and sink from spills and stains. When it comes to your kitchen's décor, a backsplash reflects your personal style and helps unite other elements such as appliances and cabinets.
There are countless options for backsplash materials with colors, sizes, and shapes to match a variety of decorating preferences and functions. Here's a review of what you're likely to find as you search for the perfect backsplash.
Granite
What it is: Granite, a natural stone, offers the same type of distinctive coloring, streaks, and patterns as marble (see below). Slabs or tiles of granite are available in both polished (shiny) or honed (matte) finishes.
What to think about: The beauty and uniqueness of granite set it apart; no two slabs are the same. Some people seal granite as an extra measure of protection, but in general it's easier to clean and maintain than marble.
Marble
What it is: Marble, a softer and more porous stone than granite, is a luxurious backsplash and can be found either as tiles or a slab.
What to think about: Like granite, marble is incredibly unique in appearance. To protect its pristine surface, marble also needs regular sealing and vigorous cleaning. It's also more susceptible to scratches, cracks, or other marks than granite.
Porcelain or Ceramic Tile
What it is: Porcelain and ceramic tiles are incredibly durable and come in almost any color, size, or style imaginable, giving you the freedom to create your patterns or mosaics and truly customize your kitchen.
What to think about: Consider both tile and grout color in advance. Depending on your preference, the grout can create a contrast or supply a smooth, monochromatic look. Smaller tile sizes equal more grout lines to clean, and light-colored grout may require more frequent cleaning than dark-colored options.
Quartz
What it is: Also called engineered stone, this material is a mix of crushed quartz and resin. It's resistant to stains, easy to clean, and has a good mix of colors to choose from.
What to think about: Check out a brand's performance characteristics and look for those that receive high marks for heat- and scratch-resistance.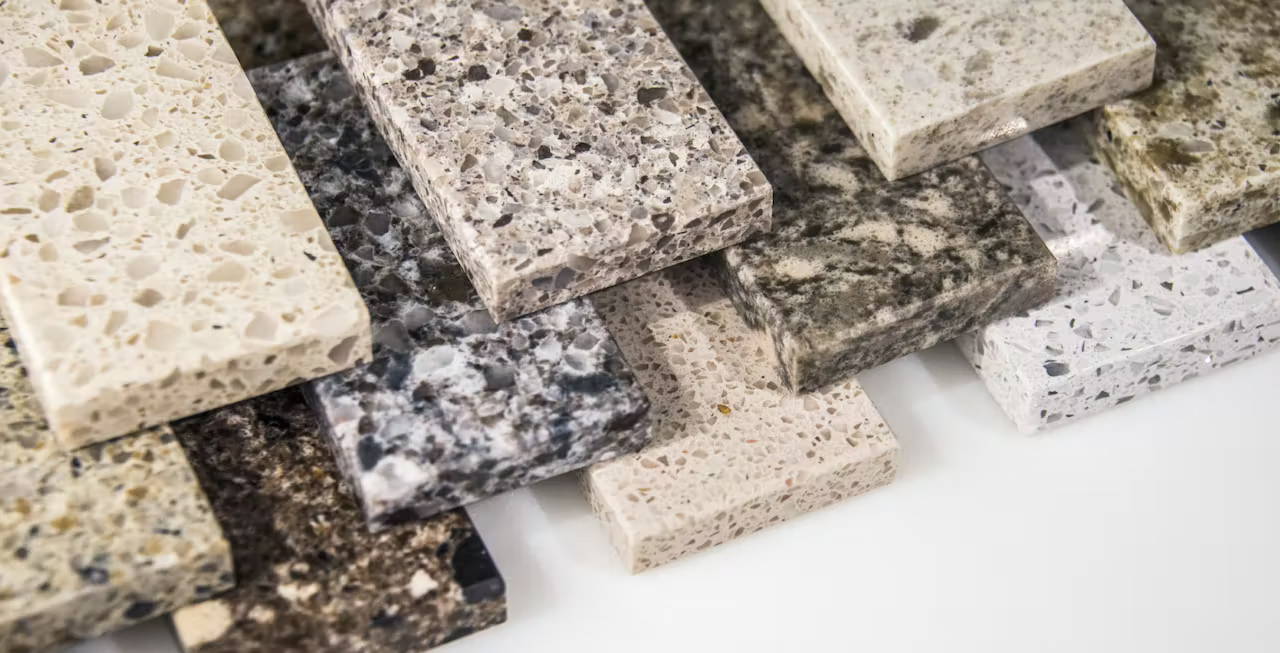 Three more things to consider before choosing a kitchen backsplash
The backsplash tile shape can help give your kitchen a luxurious feel. Refined chevron and restrained patterning as well as rich tones add an elegant look.
Backsplash materials may be mixed and matched. You don't have to use the same material throughout your kitchen. In fact, a few options may better unite appliances and cabinetry.
Consider the finished backsplash height. The standard installation height is above countertops to just below the bottom of cabinets. On an open wall, however, you may want to install backsplash in a more dramatic, higher-height fashion.
---
EXPLORE MORE ON THESE TOPICS