Simplify the Drink Menu with Colorful, Flavorful Mocktails & Cocktails
We're quickly approaching peak entertaining season. With the holidays around the corner, we're already making plans for parties and gatherings with friends and family. This year, we're picking up on some eclectic design ideas that include jewel tones, colorful accents, vibrant prints, unique flavors, and vintage glassware.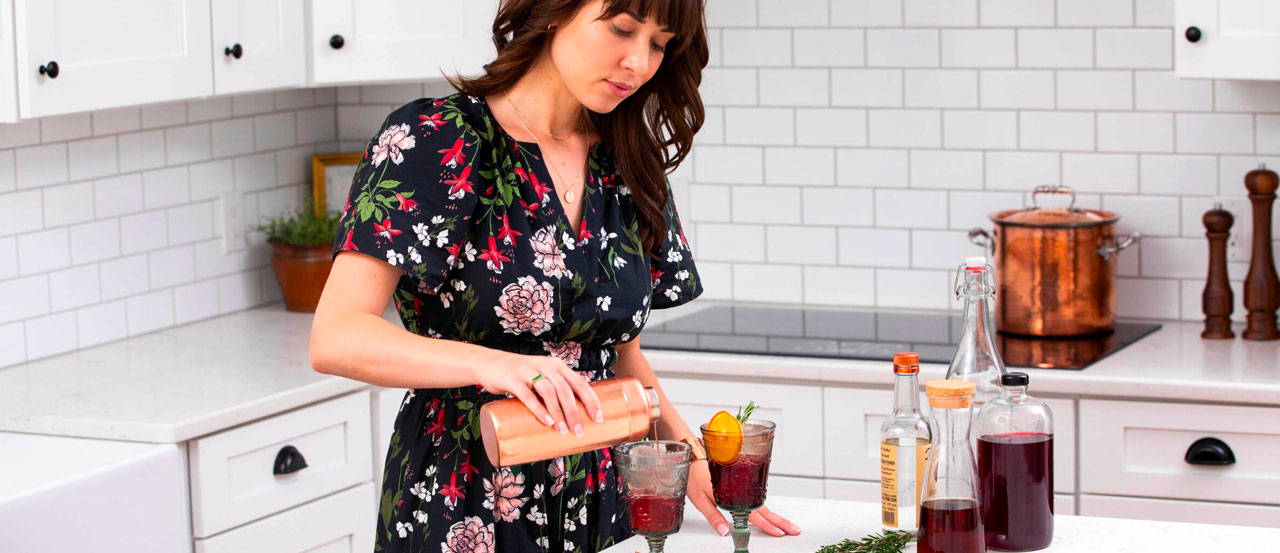 Vintage Glass Sets the Mood
Whether on display or in use, colorful vintage glassware sets the stage for entertaining throughout the holiday season. A shelf or bar lined with jewel-toned stems and goblets feels familiar and inviting. For many, the unique designs bring a sense of nostalgia; remembering a family tradition when deep colored goblets were used for gatherings and special meals. Whether all one tone or a collection of several colors, vivid toned glassware looks gorgeous as light shines through and feels festive no matter the occasion.
If you weren't lucky enough to inherit a set of textured colored glasses, you can find many styles at local antique shops or even online. You'll find glasses and goblets in hues of cobalt blue, olive green, deep red, amber gold, and even amethyst. Many shops are also selling new glassware that mimics the styles of old, so you're sure to find something that fits your style.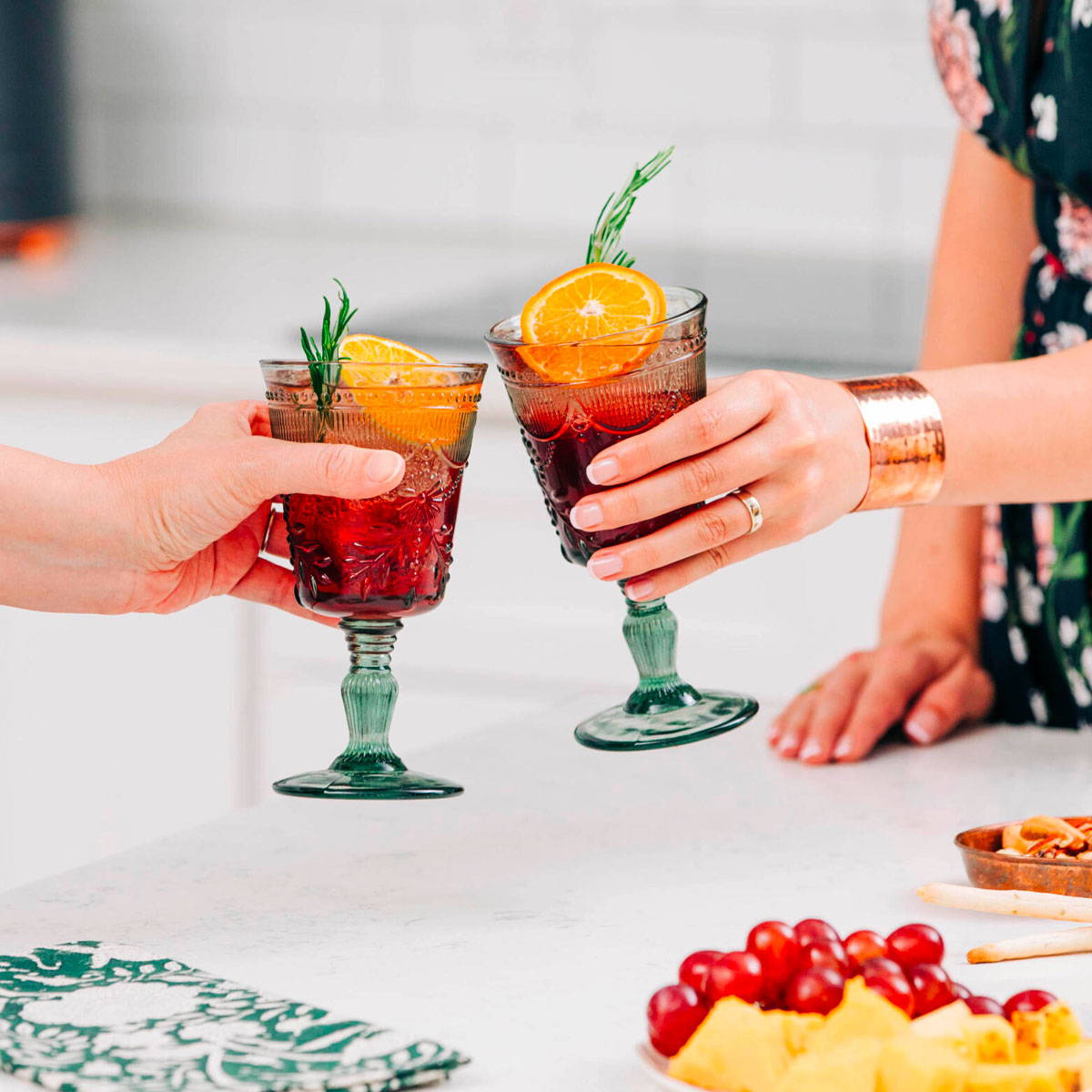 Follow Through with Flavor
Perfect for a fall gathering or a holiday party, we've found a signature drink that can be enjoyed as both a mocktail and a cocktail: Cranberry Maple Rosemary Mocktail. The fresh, spiced flavors are refreshing with bubbly soda but can also be mixed with sparkling wine to jazz it up for those who prefer it. It's creative cocktail presentation at its best—the deep red color looks exquisite in a jewel-toned glass with a sprig of rosemary and a few cranberries or citrus rings floating on top. It makes for a professional, lively, and unique drink offering.
It's simple to make; just make the maple rosemary simple syrup on your Café induction cooktop. Let the syrup sit to develop the flavors. This syrup can be made ahead of time and brought out to mix whenever you're ready to serve. Mix it with cranberry juice chilled in your Café refrigerator or wine and beverage center, pour into ice-filled glasses and top with a few ounces of soda water, vodka or sparkling wine.
Having a crafted beverage that anyone can enjoy (even kids!) means less pressure on those who don't imbibe alcoholic drinks. More and more people are looking for special, non-alcoholic drinks when at parties, too. And the flavors in this recipe come together to ring in the spirit of the holidays. Serve it chilled with appetizers or as an evening cocktail. Guests will love your signature drink all evening long.

Cranberry Rosemary Maple Mocktail
Cook Time 2 hours | 4 Servings
Syrup Ingredients
½ cup water
½ cup maple syrup
2-3 sprigs rosemary
Mocktail Ingredients
1-2 oz of the prepared syrup
2 oz unsweetened cranberry juice
Pinch of all spice seasoning
2-3 oz soda water
Rosemary and cranberries for garnish
How to Make It
Make the maple rosemary syrup.
To a pan on medium heat, add water, maple syrup and 2-3 sprigs of fresh rosemary. Heat gently for 5 minutes. Turn off heat and cover, allow to steep for 20 minutes. This is enough syrup for 4 to 5 drinks.
To make a mocktail add 1 to 2 ounces of syrup, cranberry juice, a generous pinch of all spice to a cocktail shaker. Add ice and shake until well combined.
Pour into a goblet full of ice. Top with 2 to 3 ounces of soda water. Garnish with a rosemary and sugared cranberries.
Chef's Notes
To make this mocktail a cocktail simply add 1-2 ounces of vodka to your shaker.
---
EXPLORE MORE ON THESE TOPICS