Tips for Cleaning your Glass Cooktop
Keeping your glass cooktop looking new is easy with proper cleaning and the use of approved cookware.
To prevent damage to the glass cooktop, always use CeramaBryte ceramic cooktop cleaner and cleaning pads, and always clean your cooktop after each spill. Before using your cooktop for the first time, and after each use, follow these cleaning steps.
NOTE: For models with Precision Cooktop Sensor on the left front element, ONLY use water and dish detergent on the sensor. Do not use cream-based cleaners. Cleaners that have grit can cause build-up around the sensor and restrict its ability to move freely.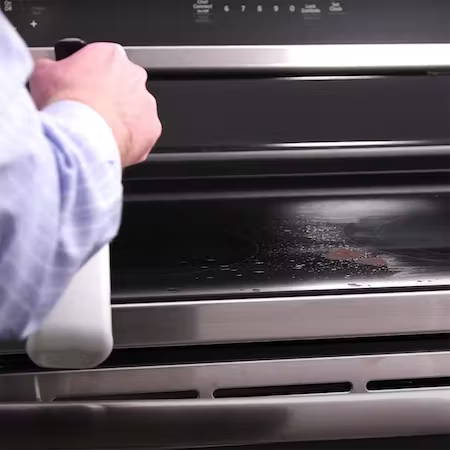 Everyday Cooktop Care
If using the cream version of CeramaBryte® Ceramic Cooktop Cleaner (WX10X300), shake the cleaning cream well and apply a few drops directly to the cooktop. If using the spray version of CeramaBryte® Ceramic Cooktop Cleaner (WX10X391), spray a small amount on the cooking surface.
Use a paper towel or CeramaBryte® Cleaning Pad (WX10X350) to clean the entire cooktop surface.
Use a dry cloth or paper towel to remove all cleaning residue. There is no need to rinse; however, it is important that you do not heat the cooktop until the cream has been cleaned off.
Cleaning Burned-On Spills
Allow the cooktop to cool completely.
Spread a few drops of CeramaBryte® (WX10X300) over the entire burned-on area.
Using a CeramaBryte® Cleaning Pad (WX10X350) or paper towel, rub the residue area, applying pressure as needed. Add more cleaner if necessary until the spill is gone, then buff the surface dry.
Clean and buff the entire surface for extra protection.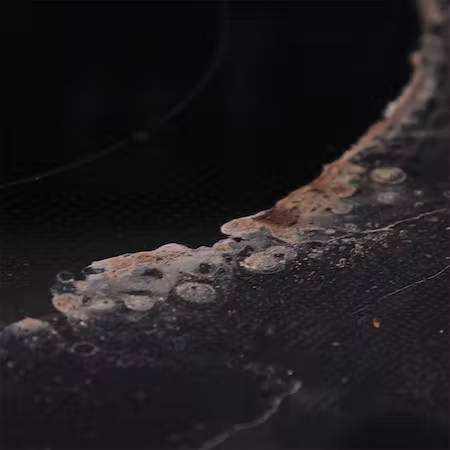 Cleaning Heavy Burned-On Residue
Hold a razor scraper (WX10X302) at approximately a 45º angle against the ceramic glass surface and scrape the soil. It will be necessary to apply pressure to the razor scraper in order to remove the residue. To avoid damage, be sure the scraper blade is not dull or nicked.
Keep a small amount of cream on the residue as you scrape.
After scraping with the razor scraper, use the scrub sponge to remove any remaining residue.
After all residue has been removed, polish the entire surface with the CeramaBryte® cleaner and a paper towel.
Cleaning Sugar Spills or Melted Plastic
Special care should be used when removing hot substances from the cooktop surface to avoid permanent damage of the glass surface. Sugary spillovers (such as jellies, fudge, candy, syrups) or melted plastics can cause pitting of the surface of your cooktop (not covered by the warranty) unless the spill is removed while still hot. Special care should be taken when removing hot substances.
First, turn off all surface units and remove hot pans.
While wearing an oven mitt, use a single-edge new, sharp razor blade scraper to move the spill to a cool area on the cooktop and remove the spill with paper towels.
Any remaining spillover should be left until the surface of the cooktop has completely cooled, and then removed using the above cleaning methods.
Do not use the surface units again until all residue of the spill has been completely removed.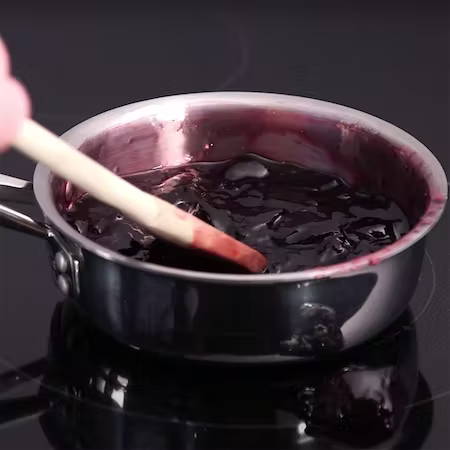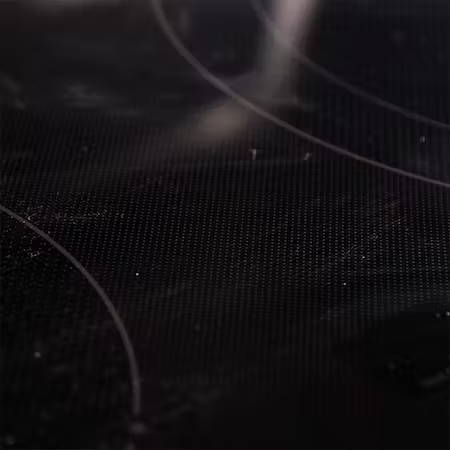 Cleaning Scuffs and Scratches
To avoid marks and scratches, be sure not to slide pots and pans across your cooktop; it will leave metal markings on the cooktop surface.
These marks are usually removable using CeramaBryte® (WX10X300), a CeramaBryte® Cleaning Pad (WX10X350), and/or a razor scraper (WX10X302).
If pots with a thin overlay of aluminum or copper are allowed to boil dry, the overlay may leave a black discoloration on the cooktop. This should be removed immediately before heating again or the discoloration may be permanent.
Carefully check the bottom of pans for nicks, gouges or any rough area as these types of imperfections will scratch the cooktop.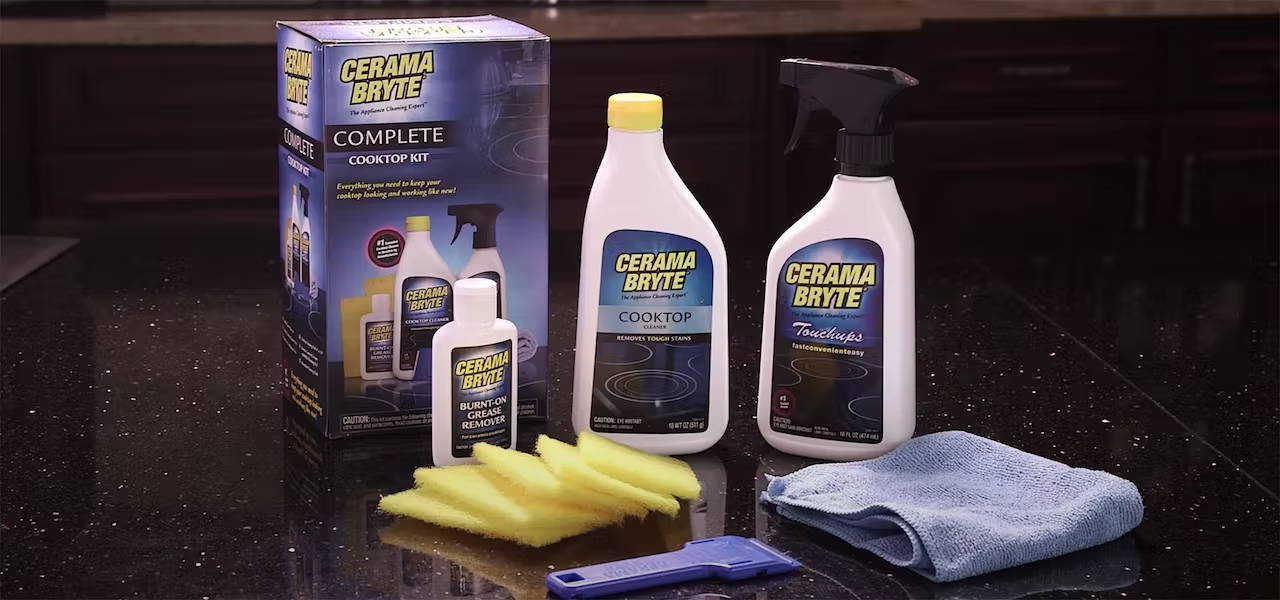 Suggested Cleaners
CeramaBryte® (WX10X300): 28 ounce bottle of ceramic cooktop cleaner. Most glass cooktops and ranges come with a sample of CeramaBryte® Ceramic Cooktop Cleaner.
CeramaBryte® Pads (WX10X350): 4 cleaning pads for use with the cleaner.
CeramaBryte® Wipes (WX10X305): 40 wipes per canister.
CeramaBryte® Kit (WB64X5027): Includes a 28 ounce bottle of cleaning cream and a cooktop razor scraper.
CeramaBryte® Cooktop Cleaning Kit (WX10X117): Includes CeramaBryte cooktop cleaner, a CeramaBryte cleaning pad and a razor scraper.
CeramaBryte® Touchup Cleaner (WX10X391): A 16 ounce bottle of cleaner.
Razor Scraper (WX10X302): The razor blade helps removes burned on residue. It is packed inverted for safety reasons. Prior to use, the blade must be rotated and reinserted into the slot. Do not use a dull or nicked blade.
---
EXPLORE MORE ON THESE TOPICS