Get dinner on the table in under 30 minutes by roasting fresh broccoli with everything bagel coated salmon. The sweet honey Dijon coating has so much flavor and helps all the seasoning coat the salmon in a flavorful crust.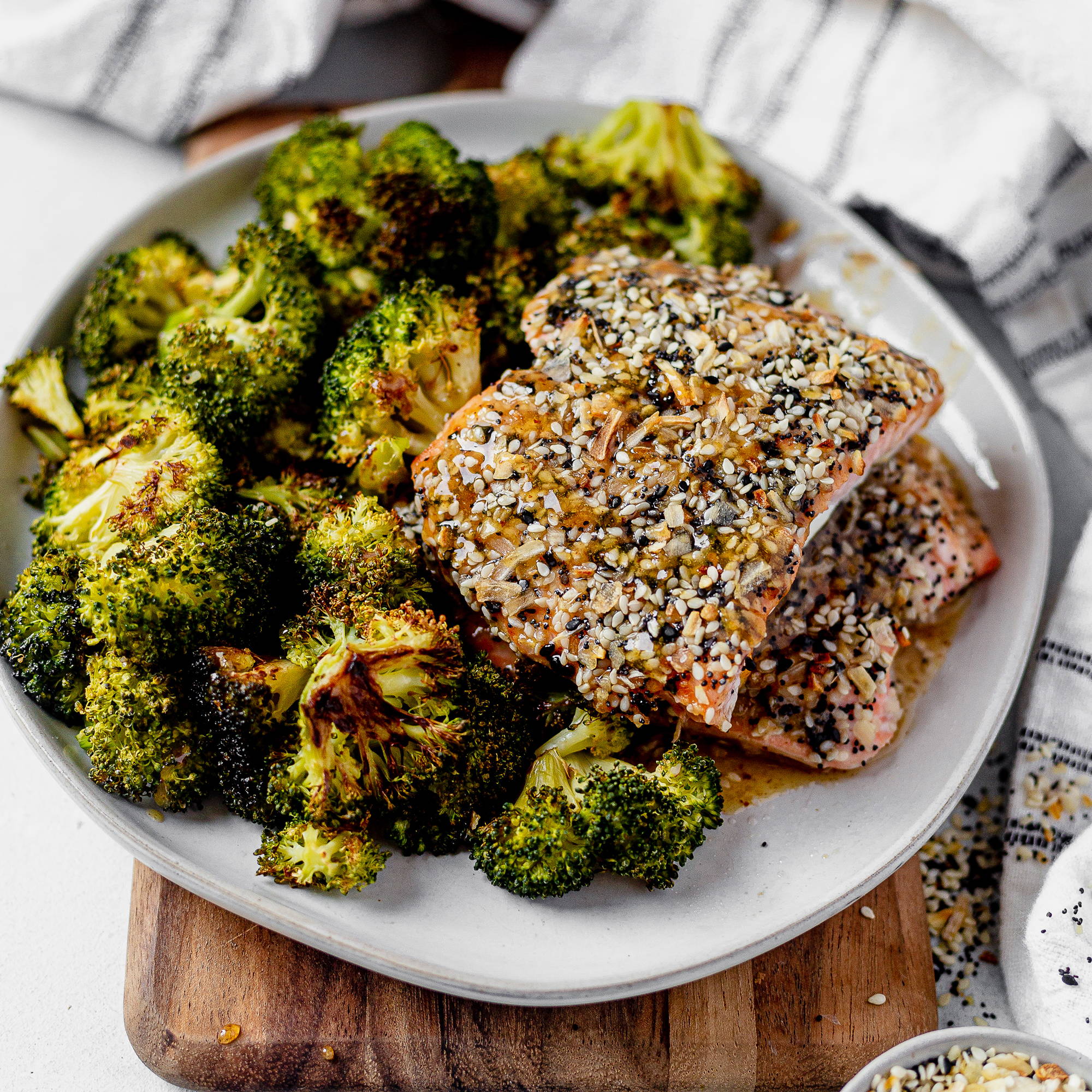 Cook Time 25 minutes | 4 Servings
Ingredients
32 ounces broccoli florets
1 tablespoon olive oil
1 teaspoon salt
3 tablespoons honey
3 tablespoons Dijon mustard
4 (3-4 ounce) salmon fillets
¼ cup everything bagel seasoning
How to Make It
Preheat the oven to 425°F. Add the broccoli florets to a large sheet pan in an even layer and drizzle with olive oil and sprinkle with salt. Toss to coat then roast in the preheated oven for 10 minutes.
While they're roasting, mix the Dijon and honey together in a small bowl. When the broccoli is done, carefully remove it from the oven, stir it then push it to the side to leave room for the salmon.
Place the salmon on the open side of the sheet pan and generously coat each in the prepared honey dijon mixture. Coat the salmon with everything bagel seasoning so minimal flesh is showing.
Place the sheet pan back in the oven for 12-15 minutes, until salmon reaches 145°F.
Molly Thompson (along with her husband, Zach!) is the creator of What Molly Made, a recipe site with the mission to help you feel your best and feed your family with meals they look forward to eating. Learn more about Molly and Zach and on their site and on Instagram.
---
EXPLORE MORE ON THESE TOPICS