Croque Monsieur Bread Pudding
A croque monsieur is a classic French brasserie dish made with ham and Gruyère. This recipe takes those traditional flavors and spins them into an sophisticated main for a large group. Try it for your next brunch or dinner party!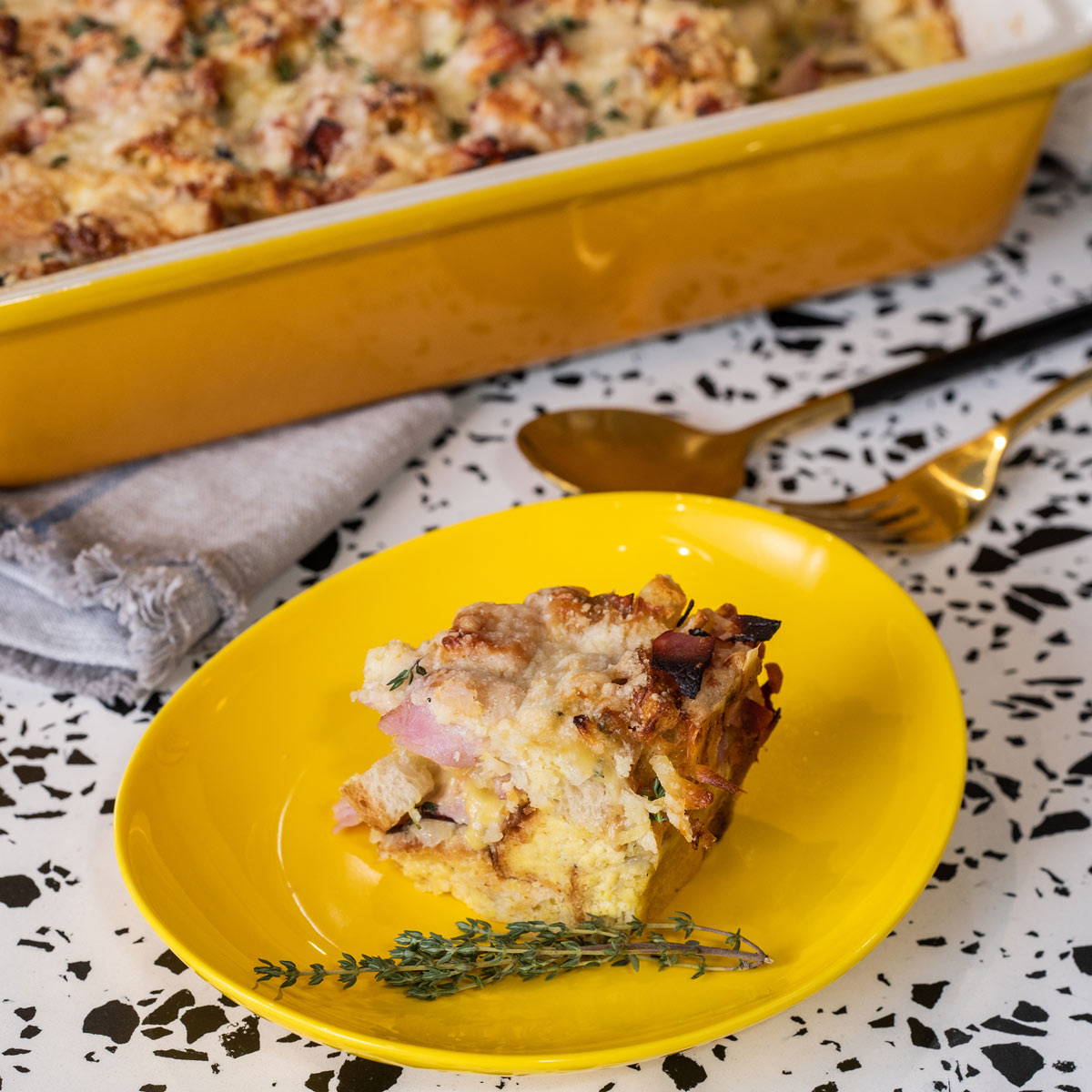 Croque Monsieur Savory Bread Pudding
Time 1 hr 30 min | 12 servings
Ingredients
1 tablespoon unsalted butter plus extra for coating pan
1 yellow onion roughly chopped (about 1 ½ cups)
4 garlic cloves thinly sliced
1 tablespoon fresh thyme leaves, plus more for garnish
8 large eggs
1 ½ cups half-and-half
2 tablespoons Dijon mustard
½ teaspoon hot sauce
1 ½ teaspoons kosher salt, divided
1 pound loaf French bread, cut into 1-inch pieces
2 cups shredded Gruyère cheese (about 4.5 ounces)
1 pound Parisian ham cut into ½ -inch pieces
¼ cup finely grated Parmesan cheese (about 1 ounce)
How to Make It
Oven dry your bread by spreading on a sheet pan and placing in a 225°F oven for 30 to 40 minutes. Bread should be very dry but not have any color. The dried bread can be made ahead of time. Keep in a cool dry place for up to 4 days.
Coat a 11 x 9-inch baking dish with butter and set aside. In a large skillet, over medium heat, melt the butter. When butter begins to foam add the onions and season with kosher salt, stir, and cook until just softened about 3 to 4 minutes.
Add garlic, season with salt and pepper, and cook until beginning to soften and fragrant, about 1 minute. Remove from heat and stir in thyme.
To make the custard whisk eggs, half-and-half, Dijon, hot sauce, and 1 teaspoon of kosher salt in a large bowl until evenly combined. Arrange half of the bread at the bottom of the prepared dish. Sprinkle with 1 cup of the Gruyère and half each onion mix and ham.
Repeat layering with remaining bread, onion mixture, ham, and Gruyère cheese. Pour egg mixture over the top.
Press the bread cubes into the dish to ensure bread is submerged in egg custard, cover with plastic wrap, and refrigerate for at least 3 hours or overnight.
When ready to bake, heat the oven to 325°F and arrange the rack in the middle. Let the dish sit at room temperature for at least 20 minutes before baking.
Bake for 20 minutes, then increase the temperature to 375°F. Remove the pan from the oven and top evenly with parmesan. Bake for another 15 to 20 minutes until puffed and the edges pull away slightly. Remove from oven and sprinkle over remaining thyme. Cool for at least 5 minutes before serving.
Chef Notes
Bread pudding can be baked up to three days ahead of time then stored covered in the refrigerator. Rewarm it in a low oven (200°F) until warmed through, about 30 minutes.
---
EXPLORE MORE ON THESE TOPICS